02 Jun

10 Backyard Ideas With Landscaping

Here are 10 backyard ideas involving landscaping that will turn your yard into a relaxing oasis. Check out our Pinterest page if you're looking for more ideas.
1. A fire pit makes a backyard into a functional space for large parties or intimate, after dinner relaxation. Installing a paver patio around the fire pit makes it easier and more welcoming.
2. The sound of falling water is often used to relax people before they go to bed. It's also some of the best memories I have from going to the ocean with my family. Bring that sound to your backyard with a beautiful water feature.
3. A well thought out plant bed in the backyard makes your house feel much more like a home. The leveling of plants and different blooming seasons ensure a wonderful space all year long. A landscape design will make the planing look professional for many, many years to come.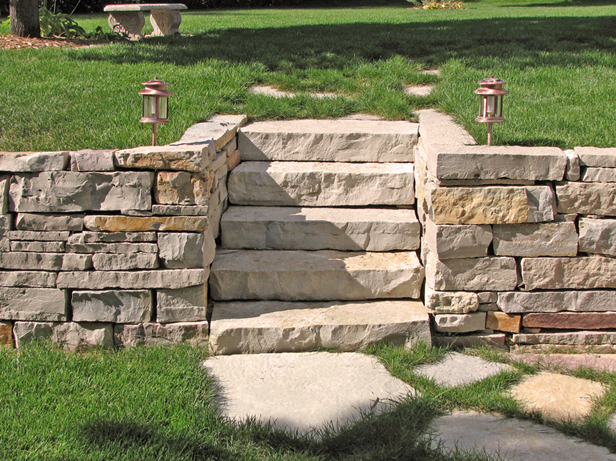 4. If your backyard is sloped, adding in natural stone steps adds functionality and elegance. They're extremely heavy and kind of a bear to install but soooo worth it when they're done.
5. An irrigation system is a great backyard idea. The sprinkler system makes your lawn look healthy and lush, even in the hot and dry summer months.
6. Buy some new furniture that's more earth toned and comfortable. Home improvement and furniture stores now sell gorgeous furniture that's made to withstand the rigors of Minnesota weather.
7. Plant some annuals on the outskirts of your main landscaping for a new backyard idea every year. You can also plant annuals in planter boxes or in window boxes to add a more rustic feel, homey feel. Annuals are nice because you can change the color and style every year to fit your current tastes or try something new.
8. Outdoor lighting creates mood and ambiance for any backyard space. Installing it takes an artful eye and the technical know-how.
9. One of the simplest backyard ideas is just going through your plant beds and pulling weeds! Not only is it a good workout, it's truly amazing how the yard looks when you are completed.
10. Refreshing the decorative rock or mulch in your plant beds is a great backyard idea. It's like giving a room in your house a fresh coat of paint. It brightens up all the plants and just makes the backyard look fresh and new.
If you're looking for more backyard ideas and you would like a free quote on any services you can dream up for your backyard, be sure to contact us at KG Landscape Management. We love spending time outdoors in our backyards and want the same for each and every one of our clients.