23 Apr

6 Reasons for Outdoor Lighting
1. Light up your patio/pool for use at night
You have an awesome deck, patio, or pool. It's absolutely fantastic during the hot summer days to lounge around or barbeque on or have family and friends over. The problem? It's not very useful at night. By installing an outdoor lighting system you can get a lot more use out of your outdoor spaces. It's nice in the summer but especially useful on the warm spring and fall evening when the sun sets earlier so you have less time.
2. Protect your house from unsafe visitors
An outdoor lighting system keeps burglars and other unwelcome visitors away by shining light on your lawn and house, especially if the lights are placed in strategic places. When designing the outdoor lighting system, you'll want to position the lights near entrances into your home to prevent any dark spots where an intruder could get in. You're also stopping unwanted visitors by lighting up the area around your home. This does not all for any dark paths.
3. Make your house look more prestigious
A well designed landscape lighting system elevates the look and feel of your home from the outside. The lighting projects a mood of prestigiousness (I just made that up) and is a mark of a homeowner that cares how their home looks during the day and during the night.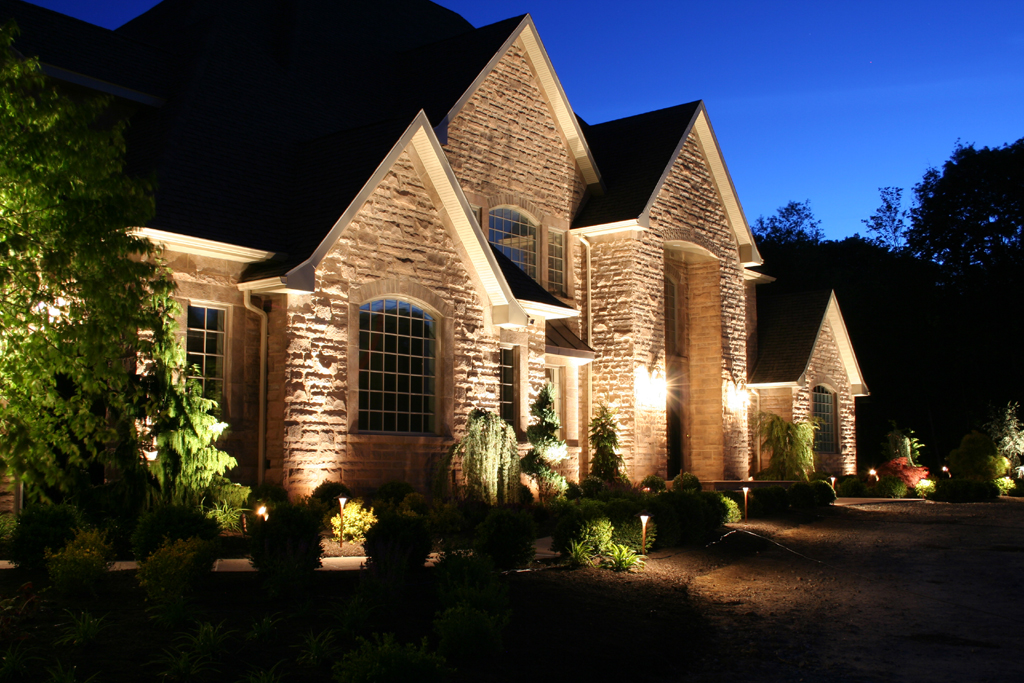 4. Add to your home's curb appeal
Curb appeal is so important for selling your home. The front of your house is the first thing buyers and guests see. The thing that people often forget is that people don't just house search or visit during the day. Some landscape lighting makes your home stand out among the crowd when driving down the road. It also makes it easier for guests and visitors to find you.
5. Safety for your family and your guests
Many parties and family get togethers don't end until well after the sun has gone down. You want your guests and family members to be safe when they leave your home. An outdoor lighting system will light up any walkways to their vehicles. Tripping and falls are common, especially in Minnesota winters, having a light path will ensure they see ice and help avoid it.
6. Creative freedom to make your lawn stand out
An outdoor lighting system makes your home look and feel unique. Aim some lights up at your trees and you have an ethereal look to your home. Light up the outside of your house to make it look more formal and dramatic. Use some down lights to ignite your beautiful walkway and your house will look much more welcoming. A colorful garden that is lit up is a striking entrance. There are many different combinations and features to highlight using a lighting system. You can let your creative side come out (or let a designer get creative).
If you're looking for more information about landscape or outdoor lighting, please give us a call at 763-568-7251 or fill out a quick quote form.