07 May

Overseeding: Everything You Need to Know

When spring has sprung and people start to emerge from their homes to inspect their yards, the health of their grass is a top priority. One of the primary ways to promote healthy grass is to overseed. Overseeding is when you cover an already grass-filled lawn to promote a thick coat and healthy yard.

Grass can die off or get thin for a wide variety of reasons. To combat this, many homeowners venture to the local hardware store, pick up grass seed, and spread it around their lawn. This is a great idea! But we're going to try and give you some tips on how to be more purposeful when you overseed your lawn.
Choose the right kind of grass seed
Is your turf grass primarily in the shade? Or is it very sunny? This matters! When picking out a grass seed bag, make sure to pick out the type of seed that will work for your type of lawn. This kind of goes without saying, but otherwise, many people may simply choose the bag that is on sale. It's also possible to put one kind of grass seed in the front and one in the back. So, look at the conditions your lawn grows in and adjust your plan. If you want to learn more about buying grass seed, you can read our blog post about choosing the right kind of seed for your lawn.
Spread the grass seed correctly
There are a lot of different ways to spread grass seed. Spreading by hand is a popular, if extremely inconsistent way. There are also hand-held spreaders and walk-behind rotary spreaders. We're partial to the rotary spreader if you're doing an entire lawn. You can adjust the radius the grass flies out and the amount of grass that falls out at a time on a much more consistent basis. If we're overseeding just a small patch of grass near a driveway or by a patio, we use the handheld spreader. Again, consistency is key so there isn't too much seed competing against itself or too little seed to leave an area of the lawn bare. You can find the size of your lawn here, then use the recommendations on the grass seed bag for the size of your lawn.
Fertilize to get the grass growing
After applying the overseed, you can put down some quick-release fertilizer to jump start the germination process of the seeds. This type of fertilizer only lasts for a short time but provides good food for the seeds to start growing. If you're seeding a new turf area, using a weed control product like Tupersan allows new grass seed to germinate but stops weeds in a more precise way than other weed control agents.
Apply some long-release fertilizer about a week or two after overseeding. This type of fertilizer will release its food slowly over 6-8 weeks, allowing the grass to get healthier over time. Again, find the size of your yard and then apply the fertilizer as prescribed on the bag.
Aerate before overseeding for optimal growth
Aeration is a powerful tool for getting your yard to grow back greener and healthier. You can rent an aerator or have a company do it for you. An aerator is a machine that takes out plugs of soil from your yard to make room for more grass and stronger roots. When soil is tightly compacted together, it can lead to diseases, less nutrients reaching the grass, and poor drainage.
Many experts recommend dethatching as well. This can be a worthwhile activity to get rid of the dead material on the top of the ground. However, we believe that aeration basically accomplishes the same goal, and with a lot less effort.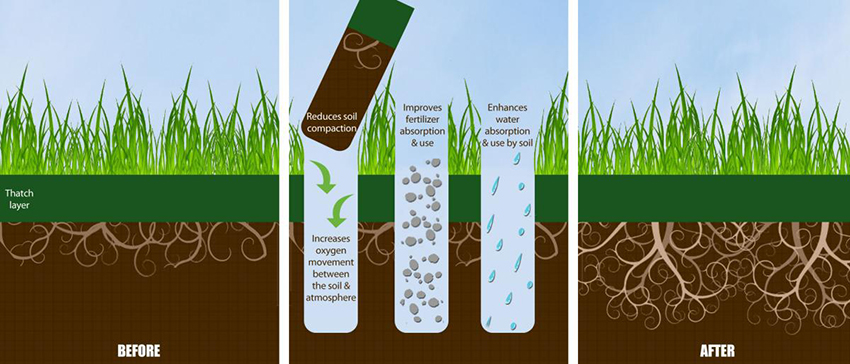 Water after overseeding. A LOT.
Lightly water the ground as soon as you can after overseeding. Do not simply spray water at the ground or oversaturate the area with water, because that will cause the seeds to wash away. Continue watering the grass at least twice a day to provide as much water as possible to the new grass so it germinates quickly. An irrigation system helps, of course, because then you don't have to move the sprinkler around all day long.
A green, healthy lawn takes tender loving care
KG Landscape is the leading Minneapolis Lawn Care company. Our team is trained and ready to take care of your lawn. We offer lawn mowing, aeration, overseeding, and fertilizer packages. Fill out a quote request or call us today at 763-568-7251.