Your Perfect Driveway
Since 2003, KG Landscape has been offering outstanding landscape design and construction services, including driveway design and construction.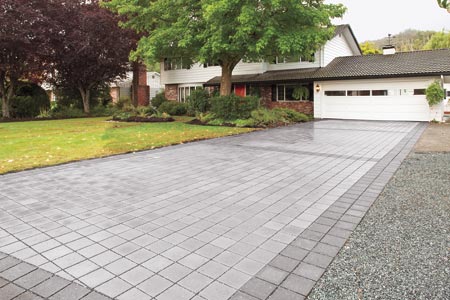 You would be mistaken to underestimate the power of a gorgeous driveway. It is true that a driveway is meant to be functional, providing a gateway to home. However, it is also the first thing visitors will notice as they stand outside your home. Even if your land is beautifully manicured and the paint on your house is fresh, it will all be for naught if your driveway is not up to snuff.
The driveway design that you choose will have an intense effect on the way other people view your home from the outside. Friends, family neighbors and all other visitors will have their attention drawn to your driveway ahead of all else. In addition, a magnificent driveway will have desirable curb appeal and increase the value of your home as well.
Driveway Materials in Minneapolis to Suit Your Style
The first thing you need to consider is the width and design of the driveway. No two driveways are alike. If your driveway is long and narrow, you may get the most aesthetic results using asphalt. If the driveway is long and winding, it would look best in stone pavement. You must consider the many different types of available driveway materials in addition to the type of edging you desire.
Keep in mind as you are searching through various styles and pricing materials, in most cases, driveway construction is not a do-it-yourself kind of job. It takes time, planning and experience. Typical paver driveway installations take anywhere from 3 days with a full crew of trained workers to over a week. It depends on the intricacy of the design and the type of soil. Asphalt and concrete installations can take a similar amount of time.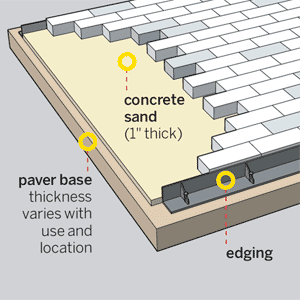 Take the time to step back from it all and really look at your home and yard as a whole. Think about the type of driveway that will best complement you own style. Consider the landscaping features that you already have in place. For example, a stone water fountain would really stand out alongside a beautiful stone driveway. Perhaps you have a granite flowerbed that would look best with loose stone or granite in the driveway. The color of the driveway needs to match
A wide variety of driveway materials are available. It is important that you choose the one that will best enhance the entryway to your home. You may want to consult an expert to determine if asphalt, brick, concrete, granite, loose stone or natural stone will best compliment your home and yard. For Minnesota driveways, the best choice is paver stones. They allow for expansion and contraction due to the extreme temperatures here. Concrete does not allow for that. If you would like to learn more about concrete vs. paver driveways, read more about it at our blog post.
Your Ideal Minneapolis Driveway Design
Several features of your property will help you determine the driveway options that will best suit you. A few things to consider include the location of the entry to the driveway and the layout of the arrival destination, such as a garage or parking area. You would also want to consider the water absorption of the ground underneath the paver stones. If your ground does not absorb water very quickly, some outdoor drainage solutions would need to be put in place to prevent water buildup. Those solutions might include putting a deeper base of rock or some drainage tubing to collect the water.
A short driveway will need to be a direct route, while a longer driveway will provide you with more options. A longer driveway also offers more room for visitors and family members. As mentioned earlier, you also need to make sure surface water is directed off your driveway correctly. A properly designed and installed paver driveway will direct the water to the right areas and stay in place for many years to come.
Types of Minneapolis Paver Driveways
Basic – A basic driveway leads straight from the entry road to a side garage or driveway apron.
Circular – A circular driveway design will generally begin at the road, across the area near the front door and back out onto the street, basically in a loop.
Courtyard – A courtyard driveway design may resemble old European estates or may be more contemporary. The central area, which can be circular or square, is usually paved.
The Best Paver Driveway Design and Installation in Minneapolis – KG Landscape Managment
KG Landscape Management has the experience and knowledge to help you plan and install the perfect entryway to your home. Speak with one of our driveway and landscaping experts today by calling (763) 568-7251 or click here to request a quote.